Alright, I'm reviving this topic because I have made something of sufficient awesomeness to warrant a post here. Remember those red glasses I had bought? Well, the following is the reason I purchased them. (Sorry, don't have an SD Card reader on me, so I had to use my phone's camera.)
To those who do not recognize these magnificent shades, they are from the comic "Transmetropolitan", which is, to put it simply, awesome. Made the glasses by taking both lenses out of the frames, then cutting pieces of plexiglass into the proper shapes, bending the right part of the frame into the right shape. It was rather fun to do, really.
Another picture: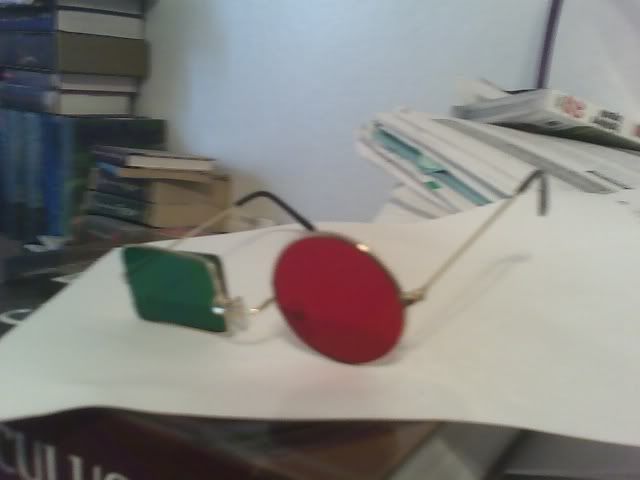 Wore these to school today. Got a lot of interesting comments, and quite a few people asked to try them on; most of them seemed to feel disoriented by them, although I didn't really notice.
Anyway, I'll put the good quality pictures up when I find a way to get them onto my computer.
Edit: You may notice that the green lens isn't all the way in. I was finishing the glasses up this morning, so I couldn't finish with the pliers before school started. I'll get on that later.