This is just going to be a place to share whatever movies you've watched recently. Write brief reviews for them or don't, it's up to you however you decide to use this thread. Everybody's free to share their stuff here.
To start, reaching back to my first-time watches for the past week:
The Lost Weekend (1945)
Classic film about a chronic alcoholic who goes on a four-day bender when left to his own devices over a holiday weekend.
There's a nice performance here from the star actor Ray Milland and, like most of director Billy Wilder's films, there are several brilliant and memorable scenes dotted throughout the film. Wilder makes great use of traditional film noir devices with shadowed photography, flashback sequences, and of course a dark and oppressive city pressing down on the brooding central character.
But unlike Wilder's other noir-styled social commentaries such as Sunset Boulevard and Ace in The Hole, I don't think The Lost Weekend has aged well over the past few decades. The trumpeting address towards the issue of alcoholism and addiction--while possibly unique at the time of the film's release--now seems formulaic and overly preachy, and after spending two hours watching a man's life break down and slowly circle the drain, the suddenly upbeat and miraculous final scene of the film feels artificial and left a bitter taste in my mouth after what had mostly been an enjoyable viewing experience.
Still, an interesting movie overall, and I did learn that in 1945 a person could get completely wasted for four days off of only ten dollars. My, how times have changed...
(6/10)
Blowup (1966)
Dark, Hitchcockian-styled film about a successful and disenchanted fashion photographer in swingin' 60's London who one day accidentally discovers that he may or may not have captured a murder in progress on film. Director Antonioni uses this setup to create a biting commentary about the subjectiveness of art and it's callous admirers, as photographer Thomas wends his way through a jaded landscape of sex, drugs and fashion to uncover the truth behind his photographs. One particularly memorable scene involves a Yardbirds performance at a club where the rock band plays their riffs to a sea of stoned zombies; the contrast between the up-tempo music and the comatose audience is a great, surreal moment of shocking honesty.
Vanessa Redgrave, Jane Birkin and Sarah Miles all accompany David Hemmings in various supporting roles (as well as John Castle in one of his first roles, a one-line performance as an eccentric painter), and the film itself is a gorgeous canvas of colors and stunning art direction, all wrapped up in a jazzy Herbie Hancock score.
Great movie, but one I'd only recommend to serious moviegoers as it moves along too slow and is far too introspective to make good popcorn cinema.
(9/10)
Elizabethtown (2005)
Tepid, sappy, self-indulgent crapfest about a stand-up cardboard dummy and a perky flight attendant who meet and fall in love over a series of quirky and music-flooded vignettes. Cameron Crowe is usually a stand-up director, but he deserves to be taken out back and pistol-whipped for this movie. What the hell did I just watch?
(2/10)
The Horse's Mouth (1958)
Deliciously clever, vicious and hilarious classic British comedy romp about a disgruntled, anarchic painter who will stop at nothing on his quest for the perfect canvas.
Alec Guiness takes the lion's share of the credit on this one, which was filmed from his Oscar-nominated screenplay and showcases yet another of his endless chameleon-like character roles. This time he adopts a gravely voice and tottering shuffle to play the aging painter Gulley Jimson, who unapologetically and freely steals, lies, and destroys pretty much anything set in his path while passionately following his artistic vision. Even his admirers are subject to this behavior, to the point that police intervention becomes a necessity. In this way, the misunderstood outsider wrestles with his limitations and criticisms while struggling to create beauty.
Kay Walsh and Dr. Pastorious--I mean, Ernest Thesiger--give hilarious supporting performances, and Michael Gough shows up briefly as an obnoxiously funny sculptor ("I'm telling you, too many feet!"). Ronald Neame directs with a humorously light sensitivity, allowing the movie it's dramatic weight but always leaving room to breathe. The entire film is soaked in a beautiful, sweeping and occasionally quirky score.
A very simple movie overall, but also a very intimate and revealing one about the internal workings of the artistic process.
(8/10)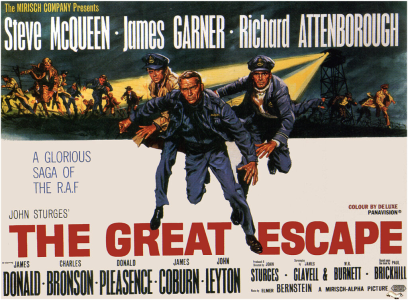 The Great Escape (1963)
What hasn't been said about this movie a thousand times already? Great cast, great story, great movie. One of the finest POW movies ever made. The end.
(9/10)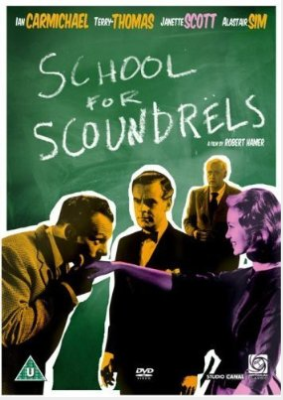 School For Scoundrels or How to Win Without Actually Cheating! (1960)
Silly, satirical classic British Hamer comedy about downtrodden executive named Henry Palfrey who utilizes self-help to get revenge on various people who have wronged him. The comedy is somewhat uneven, swinging between charming fun and less pleasant over-the-top goofiness, but it's still a fun watch. Ian Carmichael does a decent enough job playing the lead, but Alastair Sim steals all of the brief scenes they share with a lot of bent humor from the sidelines as Palfrey's professor in Oneupmanship. Dennis Price also shows up in a brief but funny supporting role as a slick-talking car dealer.
(6/10)
Burn After Reading (2008)
A silly, dark-humored romp about morons acting like morons. The Coen Brothers' straight-faced direction and the dark scoring by Carter Burwell only serve to up the humor through the movie's contrived and absurd tangle of sex and espionage. The only thing is I wish there had been more Brad Pitt, who completely stole the show in his far too brief role as a one of the lead idiots, a male bimbo professional trainer.
(8/10)
The Defiant Ones (1958)
Classic jailbreak movie from the late, great Stanley Kramer about a pair of prisoners, one black and one white, chained together at the wrist who are on the run in the deep South after escaping from a prison car accident.
The story itself is formulaic enough. Undoubtedly you read the above description and immediately guessed what happens, but this is one of those films that proves to be more about the journey than the destination. The film, which precedes Kramers' more well-known classics Inherit the Wind and Judgment at Nuremberg by several years, is seamlessly directed and showcased in stunning, crisp black-and-white cinematography by the legendary Sam Leavitt. The dialogue and plot twists are sharp and soaked in tense atmospherics, and all of this surrounds the stunning dramatic work by core actors Tony Curtis and Sidney Poitier, who were both rightfully honored with Oscar nods for their hardened, cynical performances as the unlikely escape partners running for their lives.
Wonderful movie. Watch it.
(8/10)