So this is a game that's had my attention for a while. While on the surface it appears to be a mediocre Dynasty Warriors Clone (and has the subpar reviews to prove for it), it seems to amassed a bit of a cult following. Ninety-Nine Nights is a hack-n-slash game appealing to the 'one-against-many' style of game, though unlike Dynasty Warriors or Drakengard, reviewers point out that it lacks any sort of intricate story to drive the gameplay itself along. The fans, however, point out that the gameplay itself perfects upon what Dynasty Warriors started, and couple it with some cool-sounding huge boss fights. It also looked gory and stylish enough for me, in addition to letting you play as a cute witch who gets to fly around on a key, so it sounded like the right game for me.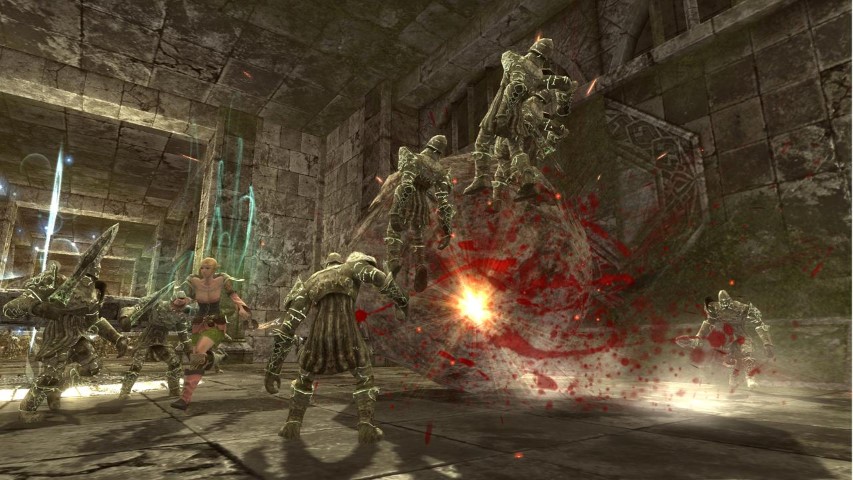 Since I had done nothing useful with the rest of that particular Monday, I decided to use what was left of it after a long day of work (it was 7:00 by this point) to bike down to the one Gamestop that I knew had copies. Unfortunately, I hadn't realized that my bike managed to implode in the time I had left it idle from the four hours I had last ridden it. So I fixed the tires and managed to ruin a pair of jeans working with the chains. Ah well.
Regardless, I then trekked out to the Gamestop, and immediately fell into the trance of an infinitely looping iteration of "Physical" by Olivia Newton John. I don't know why it was that I decided to listen to that song at all earlier that morning, but I did, and now I had to face the consequences.
Here is the song for context. Please listen to it while reading the rest of this post.
Anyway, about 45 minutes into the ride, it started to rain. I normally wouldn't have minded, but thanks to some fine construction work, my normal route had been transformed into a buffet of mud and bad drivers. After soaking completely through and finally tearing that aforementioned pair of jeans on a frayed strand of shifter cable, I arrived at Gamestop.
A homeless man outside asked me if I had any change. I said no.
So I walked inside, and the couple of employees that worked there recognized me as one of the people that came in there often enough that they should know my name, but not often enough that they actually do. After calling out to me as Tanner, they proceeded to ignore me and spend roughly 25 minutes checking out one person at the counter arguing about whether Mortal Kombat or Gears of War was bloodier.
Despite this particular gamestop having about 4 copies of Ninety-Nine Nights the last time I had came in, I couldn't seem to find the game for whatever reason. During their argument, I had time to look through the shelves three or four times, including the bargain bin and checking the sections for other consoles just in case. By the time the Mortal Kombat conversation had finished, one of them walked over to me and asked if I needed help finding anything. I told him it was Ninety-Nine Nights, and he said "Oh yeah? I hated that game."
Anyway, in the midst of some conversation, I revealed that I had had "Physical" stuck in my head the entire time for some reason, and he thought it was funny enough to go and play the song over the loudspeakers on repeat while we searched for the game.
Here again is the link for the song, if it's run out.
Anyway, so over the course of about 4 loops of the song, neither of us were able to return a copy of the game, even though he checked in his register, and the computer detailed that there was still a copy in the store. Another employee came out from the back room, who had apparently been listening earlier (but doing nothing about it anyway), and said "Oh, yeah, one of the employees had Ninety-Nine Nights on hold earlier. It should just be be behind the counter. And just like that, he walked behind the counter, and pulled out a scratched up disc with a generic case marked "NINETY-NIN NIGHTS" printed with a black and white ink jet printer, though the title was glowing yellow thanks to some clever highlighter work.
I thanked the cashier and left the store without buying the game, as it had been way too long and too much effort for me to buy a copy of such an uncared-for piece of shit. I biked home in the rain and mud, now 10:00 at night, and on the way home, someone passed by me in a large red pickup and yelled "FUCK YOOOOOUUUUUUUUU" at me while honking his horn.
As a whole, I feel Ninety-Nine Nights is a terrible experience, and is probably not worth the effort of obtaining. The screenshots do look pretty cool, however.
★★☆☆☆